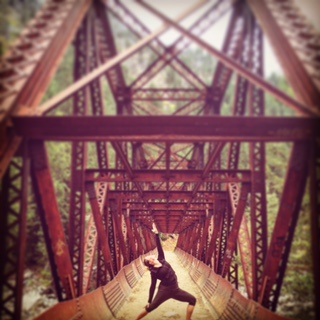 I'm a Registered Yoga Teacher and teach at Evolve Local Yoga in Leavenworth as well as offer private yoga sessions in the home. I completed my training in December 2014 through Shakti Vinyasa Yoga in Seattle. My passion is teaching beginners of all shapes and sizes as well as people between the ages of 50-70. This is a crucial time in someone's life where learning the basics of yoga can help prevent injury and increase balance. The empowerment you'll feel after a private yoga session with me will not only benefit your body but also your mind.
Teaching Schedule at Evolve Local Yoga
11779 Hwy 2, Suite 107 Leavenworth, WA
Saturday Mornings 8:00 AM - 9:00 AM (Vinyasa Flow Level 1)
Thursday Mornings 8:30 AM - 9:30 AM (Beginner/Level 1)
"Yoga & Oils Unite!"- Chakra Balancing
Similar to yoga and meditation, essential oils have been used for thousands of years to improve mental clarity, ease stress & anxiety and support a healthy immune system. When used together, yoga and oils can heighten our awareness of the connection between mind and body, generate a deeper spiritual experience and activate the main energy centers of the physical body. Our sense of smell is a pathway to the brain's limbic system, which supports functions such as emotion, behavior and motivation. Learn how to balance and propel your chakra energy channels using basic yoga poses and essential oils.
Check back for more workshop dates in Seattle, Spokane and anywhere in between! If you are interested in hosting this workshop please email me at kelliriddle@live.com.